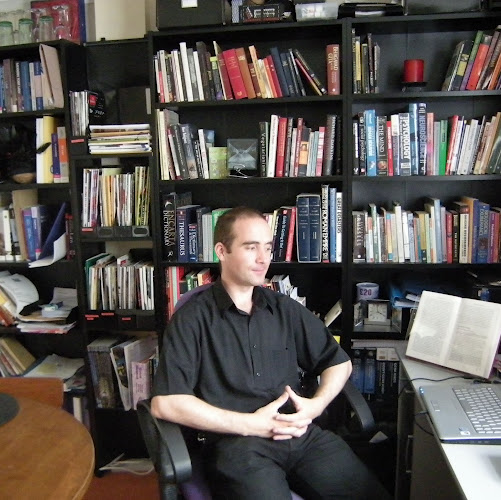 | | |
| --- | --- |
| Birth | 1975 |
| Contact | feedback@vexen.co.uk |
| Maxim (1) | Ego proinde fateor me ex eorum numero esse conari, qui proficiendo scribunt, et scribendo proficiunt1 |
| Maxim (2) | Nulla dies sine linea |
Online Profiles:
I post website update announcements to my FB and Google Plus accounts.
I have contributed chapters to multiple books on Satanism and religious studies, and have otherwise contributed to and been referenced in over 38 books on various subjects pertaining to religion and society and included as Recommended Reading for UK A-level students. I have appeared on various TV and radio programs debating religious philosophy and representing alternative religions and lifestyles.
Sociology:
Open Degree on Social Sciences, Islam in the West, Neurology, Religion Today (distinction) and The Environmental Web (distinction)2.
Computers / Information Technology:
Foundation Degree in Communications Systems Engineering FdSc with Distinction (2014)3.

SANS 503 (Computer Network Defence - Intrusion Analyst, GIAC) (2012).

Cisco CCNA Certification (2003).

A+ Certification (2003).
4 A-levels: Maths(C), Biology(C), Physics(D), General Studies (C) (early 1990s).
9 GCSEs: Including maths(A), physics(A) & biology(B). Total grades: AABBBCCCC (early 1990s).
GNVQ level 2: Safety, Security and Loss Prevention (2004).
Background.
I am British and I live and work in the UK, although I've spent 4 years working in Germany and 13 months working in Afghanistan. I now live in the South-West of England. I've worked as a web developer and programmer for a few years, but mostly (and still do) work in IT infrastructure. I've been a member of the Church of Satan for 15 years (since 1999), and ran the London Satanists for several years until I moved away. I am fit, articulate, motivated, conscientious and upstanding. I live to better myself and better others.
In common with most English people I wasn't exposed to religion so remained an implicit atheist until my late teens. This means I didn't believe in God, because, I had never heard of the idea of God. In my late teens when I came across the concept, I found it ridiculous and without basis in reality, at which point I became an explicit atheist and a Humanist. I am still a Humanist.
To embrace hard science is to accept the reductionist, realistic and skeptical type of worldview. The acceptance of science that seems inhuman - such as: we evolved in the same way as other animals, we have only existed for a tiny fraction of the lifespan of the Earth, we are insignificant in the grand universe, that our thoughts and feelings are biochemical in nature, not spiritual and our existence is a series of determined states over which we have no genuine control (i.e., there is no free will). The cold truth of reality humbles humanity, yet Human pride often makes us think we are important in the universe, or that a God cares deeply about whether we're nice to people or not, or whether we believe in religious myths or not. Our primitive egos once compelled us to make ourselves feel important in the universe and in our lives. This has adversely affected science. The solution is to actively embrace science that seems to belittle us. It requires honesty and humility.
"Philosophers strive to clarify their own thinking and to help others do likewise."
"Animal Minds" by Donald R. Griffin (1992)4
I launched my initial website in July 1998CE after purchasing "HTML 4 for Dummies" (IDG books) and "Instant JavaScript" (Wrox Press) using the simplest and most powerful editing tool: notepad.exe. From 2008 or so, I wrote my own database-driven content-management program called Ziggy. Ziggy does the bibliographies, subscript indexing, site structures, file management, notes, encryption, and many other bits and bobs.
My writings frequently verge on subjects and topics that are provocative and taboo. One main aim of my websites is to challenge and smash lazy thinking. Many parts of my websites are old and embarrassing and I am always on a constant mission to improve bad bits them with new, professional pages. It is a long journey.
I do it because I am impatient with those who set humanity back intellectually and therefore technologically. The medical sciences, astrosciences and biological sciences such as psychology and neurology all have immense scope to improve the lives, and lifespans, of human beings, but countless religion-inspired and stupidity-inspired obstacles sit in their paths. So I battle against the worst of human nature, and I expect no rewards except to have lived a powerful life doing what I want to do.
"Some people write for fifteen years with no success and then decide to quit. Don't look for success and don't quit. If you want to write, write under all circumstances. Success will or will not come, in this lifetime or the next. Success is none of our business. It comes from outside. Our job is to write, to not look up from our notebook and wonder how much money Norman Mailer earns."

"The Long Quiet Highway" by Natalie Goldberg