Which countries set the best examples to the rest of the world? Which ones would we do best to copy, to emulate and to admire for their foresight, hard work and long-term conscience? Which countries would have humanity survive gleaming into a clean, happy, bright future?
And who are tardy on humanitarian issues, science or development? Which nations and cultures cling to barbarian ethics on gender and sexual equality? Who is holding us back?
I compile relevant statistics on a wide range of issues and put them into a database-driven system, which calculates points per country. The country's overall score is an average of all the datasets that a country appears in. So, countries don't get penalized for lack of data about them. I've arrived at a shortlist of countries that beat all the others. Be the best!
1.

The Criteria

(Year)

Winners
1.1.
Human Development (UN) (informational)
(2015)
Norway, Australia, Switzerland
2
The United Nations produces an annual Human Development Report which includes the Human Development Index. The factors taken into account include life expectancy, education and schooling and Gross National Income (GNI) amongst many others.
Norway has been the top of this list since ousting Canada in 2001 (except in 2007 and 2008 when Iceland made it to the top).
Links:
1.2.
Overall Life Satisfaction (informational)
(2011)
Denmark, Netherlands, Norway
3
Studying happiness is difficult and people tend to overstate their own happiness - in particular those who are aware of international studies of happiness and want to portray their country in a good light. It is also especially overstated by religious folk who are institutionalized into repeating the story of 'how happy my religion makes me'"Religion and Social Problems: Individual and Institutional Responses" by Anne Birgitta Pessi (2011)4.
It is of course true that the happiest people are not those who are necessarily leading the best lives. Excess, indulgence and short-term policy can all lead to a high rating on this chart; things like living morally and frugally, for example, do not automatically go hand in hand with happiness. For this reason, this data is being shown on this page just for general interest and does not form part of the scoring for each country.
Despite the above disclaimer, it turns out to be true that those nations that score high on the moral and long-term issues on this page are also those who tend to be happiest.
Links:
1.3.
Environmental Performance
(2011)
Iceland, Switzerland, Costa Rica
5
#bhutan #central_african_republic #equatorial_guinea #haiti #iceland #sierra_leone #switzerland #turkmenistan #united_arab_emirates
The worst countries on this scale generally use massive quantities of natural resources in an unsustainable manner and are host to massive-scale deforestation and have populations that are rising quickly. Between 1990 and 2008 Sierra Leone lost 11% of its forest area, for example. Central African Republic lost 2.3%. Turkmenistan and United Arab Emirates have only a tiny percentage of their primary energy supply sourced from renewables (both under 0.03%). Equatorial Guinea saw its CO2 emissions per person rise by 11% between 1970-2008, the second highest in the world after Bhutan. Incredibly for an island, under 13% of those in Haiti believe that human activity is causing global warming, whilst only 29% believe it in United Arab Emirates and Turkmenistan.
The best countries are not better in all criteria but normally excel in a few categories. Iceland produces 82% of its primary energy supply through renewable sources. Its CO2 emissions per person rose only by 0.1 percent. It more than doubled its forested area between 1990 and 2008. Switzerland reduced its CO2 emissions per person by 0.5% and also increased its forested areas.
1.4.
Global Peace Index
(2012)
Iceland, New Zealand, Denmark
6
#denmark #iceland #somalia #sri_lanka #switzerland #syria
"The 2012 Global Peace Index is the sixth edition of the world's leading study on global levels of peacefulness. The GPI ranks 158 nations using 23 qualitative and quantitative indicators from highly respected sources, which gauge three broad themes: the level of safety and security in society; the extent of domestic or international conflict; and the degree of militarisation. By generating new information on the state of peace at the national and global level, the Institute for Economics and Peace hopes to make a valuable contribution to better understanding how civil society, researchers, policymakers, and government can create a more peaceful society."
GPI Fact Sheet
Other comments on the creation of the Peace Index:
"The Dalai Lama said that he hoped the index would encourage countries to strive for peace. "Compiling and maintaining an index of which countries are the most peaceful and publishing the results will undoubtedly make the factors and qualities that contribute to that status better known and will encourage people to foster them in their own countries," he said."

The Guardian (2007)8
Despite the positive appeal of the Global Peace Index, it is imperfect and as with all international statistics, some countries appear to have a natural advantage. In this case, it is small countries which exist inside regional blocs, where their bigger neighbours spend on defence. You can't invade Denmark (2nd) or Switzerland (12th) without stepping on the toes of many other countries which have meatier defences, so there is less incentive for those countries to invest in defence. Although note that of course defence spending is only one of the many factors considered by the GPI, it is easy to imagine that a country such as Israel (151st), surrounded by aggressive neighbours, could never score well on this index.
#finland #myanmar_(burma) #norway #sweden #USA
The
Charities Aid Foundation
(CAF) produces annual statistical analysis of personal charitable acts by individual individuals. It takes into account the helping of strangers, donations to charity and charitable volunteer work.
Myanmar
and the
USA
's people are commendable for their generosity. The ratings system is however biased towards grassroots-charitability and because of this, it is not wise to draw moral conclusions from the data. Some countries have a top-down approach to social aid. For example, in highly socialist countries such as
Finland
,
Norway
and
Sweden
the government itself is paid by citizens (through very high taxes) to engage in a lot of social work. Therefore there is a culture in which individuals feel they already contribute to charity - a charitable
social safety net
is centralized and organized, and well funded, but is not reflected in Charities Aid Foundation ratings. Some of those countries do score highest in measurements of how much aid is given to developing countries. Conversely, some of the lowest-ranking countries are clearly suffering from extreme poverty, and may lack the infrastructure that let's people volunteer time or give to charity.
See: "Charity Across the World" by Vexen Crabtree (2017).
1.6.
Religion Importance
(2009)
Estonia, Sweden, Denmark
11
#christianity #estonia #europe #france #islam #judaism #malta #religion
High rates of religion are associated with many inequalities and problems, for example male-dominated society and abuse of women, and gender inequality, poor adoption of human rights and anti-science and poor education policies. The Gallup (2009) data used here is used by the Social and Moral Index formula to grant points based on areligiosity. The data set on belief in god is only informational, as such personal beliefs are not the same thing as organised, endemic religion.
Over the last 60 years, religion in Europe has seen a strong decline. On average throughout the 27 EU countries, only half of its people believe in God12 and 25.4% directly say that they have no religion13. There is much variation from country to country. Only 16% of the populace of Estonia believe in God and the Scandinavian countries are highly atheist. But 95% believe in Malta. Two main social groups are particularly prone to belief in God; those over 55 years old and those whose education did not proceed beyond the 15-year-old stage.12. For a discussion on secularisation in general, see: "Secularisation Theory: Will Modern Society Reject Religion? What is Secularism?" by Vexen Crabtree
Despite the low rate of belief in God, many Europeans still claim to belong to theistic religions. 49.5% of the population of Europe say they are Catholic Christian, 15.7% say they're Muslim, 12.7% say they're Protestant Christian, 8.6% say they're Orthodox Christian and 0.4% say they are Jewish13. These numbers mean that at least 30% of Europeans are putting down a religion despite not believing in the very basic first principal of the religion they put down. In some places, this percent is higher. In France only 52% of Catholic believe in God and "only 18 percent define God according to the teachings of the Catholic Church"14. This is all because most people in Europe confuse religion and cultural heritage, and for many the actual beliefs of a religion don't really matter. For a discussion of this, see: "Institutionalized Religions Have Their Numbers Inflated by National Polls" by Vexen Crabtree.
Links:
2.

The Criteria: Health

(Year)

Winners
2.7.
Adolescent Birth Rate
(2015)
N. Korea, S. Korea, Switzerland
15
#birth_control #health #population #sexuality
In a world with over 7.5 billion people on it (almost doubling in my generation alone), quality is more important than quantity. Education and wisdom take time to develop, and teenage pregnancies are recognized by most governments as a cause of deprivation and a health concern. The statistics given here from the "Human Development Report" by United Nations (2017) show the birth rate in women aged 15-19. Unfortunately, although children of a younger age also go through pregnancy, statistics are not widely available.
"There is nothing wrong with drinking modest and sensible amounts of alcohol but fitness, physical health, mental health and long-term health all suffer as a result of medium- or heavy- drinking19 and the health risks to the baby when pregnant mothers drink20 are well-known. Aside from the effects on the individual, alcohol misuse impacts on entire economies21 via increased health service costs, policing costs and lost days' work. Worldwide, alcohol misuse is "among the top five risk factors for disease, disability and death" and is a "cause of more than 200 disease and injury conditions in individuals, most notably alcohol dependence, liver cirrhosis, cancers and injuries"22. "In 2012... 5.9% of all global deaths, were attributable to alcohol consumption"23. Deaths from chronic alcohol misuse have been rising for decades, and so has violence, abuse, vandalism and crime all associated with alcohol over-use. The aggression and crime associated with alcohol in some Western countries infringes on the human rights of those who want nothing to do with such behaviour. Many of the social effects of alcohol are psychological and cultural; i.e., people don't have to behave criminally or destructively whilst drunk - it is a culturally learned behaviour. Experiments have shown that behaviour can be controlled: Those who do not wish to behave badly whilst drunk, will not do so."

"Alcohol: The Social & Medical Effects and How to Combat Misuse" by Vexen Crabtree (2015)
2.9.
Immunization Deficiencies
(2010)
23-country draw
24
The immunization deficiency value is the percent of one-year-olds missing the three DTP jabs plus the percent missing measles immunization. The DTP jab is the combined diphtheria, tetanus toxoid and pertussis jab. These four diseases represent such a horrible suite of diseases and are very widely promoted by health organisations, so, they represent the state of the country's attitude towards first-line medical science in general. An ignorant government, an irresponsible mass media and an ill-educated populace could all result in a lower acceptance of immunizations. The prominence of these four jabs plus the availability of statistics on delivery make this criteria a useful one for gauging societal development.
The benefits of immunization are self-evident for the health of the children themselves, but, there are wider implications. The fewer who are immunized, the greater the spread of outbreaks of serious disease, and, the fewer who are immunized, the greater the welfare costs, hospitalization costs, social losses and therefore, economic losses.
A scare caused by researcher Andrew Wakefield in 1998 saw stories appear across many news outlets about a link between autism and the MMR jab, causing significant reductions in the uptake of vaccines (it includes measles vaccination). The small study was overturned and found to be wrong, and, ten of the contributors withdrew their name from the paper. A "conflict of interest" was revealed that shed light on the bias behind his research: "at the time of its publication he was conducting research for a group of parents of autistic children seeking to sue for damages from MMR vaccine producers. Wakefield has applied for patents for an MMR vaccine substitute and [other related treatments]. So, not only was he allegedly paid by lawyers to cast doubt on the MMR vaccine, but he stood to gain personally from the outcome of his research". Unfortunately, the cheaper and most popular news outlets care for scare stories, and not for recalcitrations, so that many people were left misinformed.25
2.10.
Fertility Rates
(2012)
N. Korea, Brunei, St.Vincent & Gren.
26
#birth_control #health #population
The fertility rate is, in simple terms, the average amount of children that each woman has. The higher the figure, the quicker the population is growing, although, to calculate the rate you also need to take into account morbidity, i.e., the rate at which people die. If people live healthy and long lives and morbidity is low, then, 2.0 approximates to the replacement rate, which would keep the population stable. If all countries had such a fertility rate, population growth would end. The actual replacement rate in most developed countries is around 2.1.
In order to calculate the points for each country, I had to pick an optimum fertility rate, and then detract points as countries strayed from it. I have opted for the round figure of 2.0, slightly lower than the replacement rate, because the population right now is too high, therefore, the best fertility rate is probably one that will see a gradual decline in population numbers, at least for a few hundred years. The decline cannot be fast however, as this tends to create severe economic problems. So, any country that is either below 2.0 or above 2.0 loses points.
2.11.
Life Expectancy
(2015)
Hong Kong, Japan, Italy
27
The United Nations Human Development Report contains data on the Life Expectancy at Birth. Japan topped this table for very many years; for example in 1989 its average life expectancy was 78.6 which was higher than any other country29. Now, Hong Kong in the south of China has reached a new pinnacle. Life expectancy reflects overall cultural health, including diet, the health services systems, attitudes to exercise and well being, and also family structure and caring. Life expectancy stats are sometimes skewed by taking into account immigration, so that much of the time stats are compiled of natural-born inhabitants only.
Links:
3.

The Criteria: Human Rights & Equality

(Year)

Winners
#antisemitism #christianity #germany #indonesia #israel #jordan #judaism #laos #morocco #netherlands #pakistan #philippines #religion #religious_violence #saudi_arabia #spain #sweden #turkey #UK #vietnam
Anti-Semitism is the world given to irrational racism against
Jews
. It is not the same as anti-
Judaism
(involving arguments against the religion) nor the same as anti-Zionism (arguments against
Israel
). In history, influential
Christian
theologians concocted the arguments against
Jews
that led, very early on, to widespread
Christian
action against
Jews
31
,
32
,
33
,
34
. As
Christianity
rose to power in the West and presided over the Dark Ages, there were widespread violent outbursts against
Jews
of the most persistent and horrible kind. The Crusades were frequently aimed at them and the feared
Spanish
Inquisition paid
Jews
particular attention. The horror of the holocaust instigated by
German
Nazis in the 1940s was followed (finally) by the era of
European
human rights and a movement against racism in general.
The places that are the least anti-Semitical are a few countries of south-east Asia (Laos, the Philippines and Vietnam) and some of the secular liberal democracies of Europe (Sweden, the Netherlands and the UK). The worst countries for antisemitism are Islamic states of the Middle East35, which are undergoing their own Dark Age. Saudi Arabia, Jordan, Morocco, Indonesia, Pakistan and Turkey see the most oppressive and violent actions towards Jews36,37. Jews in Muslim countries face a host of restrictions and "ceaseless humiliation and regular pogroms"38. In 2004 the European Union Monitoring Center on Racism and Xenophobia reported on violent anti-Jew crimes in the EU and found that that largest group of perpetrators were young Muslim males39.
See: "Anti-Semitism" by Vexen Crabtree (2017).
3.13.
Gay Rights and Equality
(2013)
Netherlands, Belgium, Canada
40
Discrimination against Lesbian, Gay, Bisexual and Transgender (LGBT) folk is rife across the world. LGBT folk face legal restrictions as well as social stigmatisation and violence41. LGBT tolerance and equal rights have been fought for country-by-country across the world, often against tightly entrenched cultural and religious opposition. Homosexual activity is outlawed in around 80 countries41. The International LGBT Equality Index was created to compare countries and regions, granting points to each country for a variety of factors including how long gay sex has been criminalized and the extent of equal LGBT rights. The signs in many developed countries are positive, and things are gradually improving. The Economist (2012) produced a graph (below) for the USA and UK, and stated that "the British Social Attitudes Survey shows that views of homosexuality started out tough and hardened in the mid-1980s - the period of the AIDS panic. Since then they have softened (see chart). The young are more liberal than their parents"42. Over time, the situation is improving. Europe is by far the developed morally, with Scandinavia in particular being exemplary. The Middle East is by far the worst place to be anything other than straight.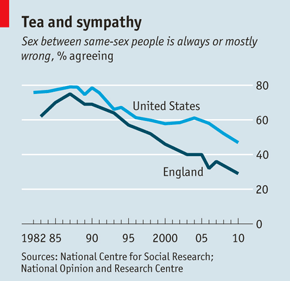 .
Links:
3.14.
Nominal Commitment to Human Rights
(2009)
Argentina, 12-country draw
43
#bhutan #costa_rica #france #kiribati #mexico
There are many international agreements on human rights, and, many mechanisms by which countries can be brought to account for their actions. Together, these have been the biggest historical movement in the fight against oppression and inhumanity. Or, putting it another way: these are rejected mostly by those who wish to oppress inhumanely. None of them are perfect and many people object to various components and wordings, but, no-one has come up with, and enforced, better methods of controlling the occasional desires that states and peoples have of causing angst for other states and peoples in a violent, unjust or inhumane way. Points are awarded for the number of human rights agreements ratified by the country, plus the acceptance of the petition mechanisms for disputes. The maximum possible score is 24.
"This ranking is comprised of the 8 core United Nations International Human Rights Treaties and their Optional Protocols, individual petition mechanisms under ICCPR, ICERD, CAT, CEDAW and CRPD, the Genocide Convention, the 1949 Geneva Conventions and its two Additional Protocols, the Refugee Convention and its Protocol and the Rome Statute of the International Criminal Court.

Argentina is, at this time, the only state that has ratified all of the treaties and accepted all the individual petition mechanisms. The Latin American and the Caribbean Group (GRULAC) has the highest number of ratifications, with 8 out of the 12 states ranking 1st and 2nd coming from the region. Western European and Others Group make up the other four states ranked second. The bottom end of the chart is made up predominantly of Asian states or small island states. Bhutan and Kiribati have the lowest ranking at just three ratifications each. Both have ratified the Convention on the Rights of the Child, the Convention on the Elimination of All Forms of Discrimination Against Women and the 1949 Geneva Conventions.

Two of the five permanent members of the Security Council - France and the United Kingdom - are in the top five and two current non-permanent members - Costa Rica and Mexico - are joint second. Of the permanent members, the "The United States of America" by Vexen Crabtree (2013) scores the lowest with a ranking of 17. The Top 5 of the United Nations Development Index of 2008 are also in the top five of the Ratifications by Country list."

NCHR Report (2009)
3.15.
Personal, Civil and Economic Freedom
(2014)
Hong Kong, Switzerland, New Zealand
44
The Human Freedom Index published by the Fraser Institute is...
"... a broad measure of human freedom, understood as the absence of coercive constraint. It uses 79 distinct indicators of personal and economic freedom in the following areas: Rule of Law, Security and Safety, Movement, Religion, Association, Assembly, and Civil Society, Expression, Relationships, Size of Government, Legal System and Property Rights, Access to Sound Money, Freedom to Trade Internationally, Regulation of Credit, Labor, and Business. [...]

The highest levels of freedom are in Western Europe, Northern Europe, and North America (Canada and the United States. The lowest levels are in the Middle East and North Africa, South Asia, and sub-Saharan Africa. [...]

Countrie in the top quartile of freedom enjoy a significant higher per capita income ($37,147) [compared with] the least-free quartile [at] $8,700). The HFI finds a strong correlation between human freedom and democracy."

"The Human Freedom Index" by The Fraser Institute (2016)
3.16.
Slavery
(2013)
Joint: UK, Ireland, Iceland
The Global Slavery Index was published for the first time in 2013. The rankings result from the estimated number of slaves as a percent of the population of the country, "a measure of child marriage, and a measure of human trafficking in and out of a country. [...] The data on the level of human trafficking in and out of a country were taken from the US Trafficking in Persons report whilst the child marriage numbers are from UNICEF"46.
I did consider researching when each country abolished slavery and giving each a point per year, therefore rewarding those countries that were first to abolish it. Then, I would give this historical ranking a 50% weight, and give the Global Slavery Index a 50% weight. However, it is clear that countries that were involved in slavery were the first to come to abolish it (e.g. Spain in 1542), and therefore, such a historical index would be very unfair.
Links:
3.17.
Women Stand for Election & Vote
(1893+)
New Zealand, Australia, Finland
Women now have equal rights in the vast majority of countries across the world.
Although literature talks of countries granting the "women's right to vote", in a democracy where all people have a voice in government it is more the case that women are "no longer denied their right to vote" rather than being "granted" a right that they already had, but, were denied.
The opposition to women's ability to vote in equality with man was most consistently and powerfully opposed by the Catholic Church, various other Christian organisations, Islamic authorities and some other religious and secular traditionalists.
3.18.
Gender Inequality
(2015)
Switzerland, Denmark, Netherlands
The UN Human Development Reports include statistics on gender equality which take into account things like maternal mortality, access to political power (seats in parliament) and differences between male and female education rates. These are not factored into the HDI, therefore, countries get a separate range of points on my Social and Moral Development Index.
Gender inequality is not a necessary part of early human development. Although a separation of roles is almost universal due to different strengths between the genders, this does not have to mean that women are subdued, and, such patriarchialism is not universal in ancient history. Those cultures and peoples who shed, or never developed, the idea that mankind ought to dominate womankind, are better cultures and peoples than those who, even today, cling violently to those mores.
See:
3.19.
Press Freedom Index
(2013)
Finland, Netherlands, Norway
6
#democracy #eritrea #finland #korea,_north #mass_media #netherlands #norway #turkmenistan #UK
Scores are calculated according to indicators including pluralism - the degree to which opinions are represented in the media, media independence of authorities, self-censorship, legislation, transparency and the infrastructure that supports news and information, and, the level of violence against journalists which includes lengths of imprisonments. The index "does not take direct account of the kind of political system but it is clear that democracies provide better protection for the freedom to produce and circulate accurate news and information than countries where human rights are flouted."
"The same three European countries that headed the index last year hold the top three positions again this year. For the third year running, Finland has distinguished itself as the country that most respects media freedom. It is followed by the Netherlands and Norway. [At the bottom are the] same three as last year - Turkmenistan, North Korea and Eritrea".
It must be noted that press freedom is not an indicator of press quality and the press itself can be abusive; the UK suffers in particular from a popular brand of nasty reporting that infuses several of its newspapers who are particularly prone to running destructive and often untrue campaigns against victims. The Press Freedom Index notes that "the index should in no way be taken as an indicator of the quality of the media in the countries concerned".
Links:
4.

The Criteria: Modernity

(Year)

Winners
4.20.
Freedom On The Net
(2012)
Estonia, USA, Germany
6
This is an important category as internet access allows access to varied sources of information outside of state influence, and access to the information age is a massive boost to personal liberty and personal potential. Scores are derived from these categories:
"Obstacles to Access: assesses infrastructural and economic barriers to access; governmental efforts to block specific applications or technologies; and legal, regulatory and ownership control over internet and mobile phone access providers."
"Limits on Content: examines filtering and blocking of websites; other forms of censorship and self-censorship; manipulation of content; the diversity of online news media; and usage of digital media for social and political activism."
"Violations of User Rights: measures legal protections and restrictions on online activity; surveillance; privacy; and repercussions for online activity, such as legal prosecution, imprisonment, physical attacks, or other forms of harassment."
14 countries improved their stance on allowing access to the Internet uncensored by political or ideological bias, since last year. Bahrain, Pakistan, and Ethiopia saw the biggest increases in authoritarian behaviour. In many countries, imprisonment and violence against journalists and bloggers increased, and Pakistan's infamous blasphemy laws were increasingly enforced for online behaviour, reducing its ranking somewhat. "Only 4 of the 20 countries that recently experienced declines are considered electoral democracies. [...]"
"Regimes are covertly hiring armies of pro-government bloggers to tout the official point of view, discredit opposition activists, or disseminate false information about unfolding events [and] over the last year, it has been adopted in more than a quarter of the countries examined. The Bahraini authorities, for example, have employed hundreds of "trolls" whose responsibility is to scout popular domestic and international websites, and while posing as ordinary users, attack the credibility of those who post information that reflects poorly on the government."
Also see:
4.21.
Internet Users in Population
(2010)
Iceland, Norway, Netherlands
3
Internet access has become an essential research tool. It facilitates an endless list of life improvements, from the ability to network and socialize without constraint, to access to a seemingly infinite repository of technical and procedural information on pretty much any task. The universal availability of data has sped up industrial development and personal learning at the national and personal level. Individuals can read any topic they wish regardless of the locality of expert teachers, and, entire nations can develop their technology and understanding of the world simply because they are now exposed to advanced societies and moral discourses online. Like every communications medium, the Internet has issues and causes a small range of problems, but these are insignificant compared to the advantages of having an online populace.
4.22.
Malware and Email Spam
(2010-2)
47
This index measures to what extent countries produce spam and malware. Spam has threatened to destroy the world's email systems and has certainly cost the IT industry billions in mitigation. "Malware" is malicious software, and the index takes into account the number of servers based in country that are Botnet CnC machines (which are bad), and the numbers of servers that host malicious downloads, including some of those associated with the infamous Blackhole crimepak.
"Russia's authorities have historically been quite lax toward cybercriminals."
Kaspersky Labs (2012)
The index also includes measures of host-based virus-detection from removable devices such as USB drives. This measures the danger in running IT systems in those locations, and probably reflects badly on the society and governments level of understanding of IT security in general.
Being a source of spam or malware is gauged as being four times worse than the other factors considered, especially as detection and block actions from antivirus are a good thing and only indirectly give away the fact that the IT security of the local environment is bad.
The data comes from a range of IT security companies including AVG, Kaspersky, McAfee and Sophos, covering 2010, 2011 and 2012 reports. In total, 17 reports' data were accumulated for this index, in all cases listing the worst offenders. In all this data only 83 unique countries appeared. All countries not on these lists have been given full points on account of no news being good news!
The upside to this IT Security index is that countries that are host to malware score lowly, bringing down their average scores. The downside to this negative index is that over 100 countries scored top points and many of these are not countries that have excellent IT security, but merely are countries that do not have much IT infrastructure. Hopefully a positive measure of IT security will resolve this in the future.
4.23.
Research & Development
(2016)
S.Korea, Israel, Japan
48
#countries #denmark #finland #israel #japan #korea,_south #politics #sweden #taiwan
Research and Development is a long-term boost to Human understanding: science improves our knowledge of the world, and new products such as better batteries for devices can improve our quality of lives. The world needs discoveries to help combat climate change, mitigate starvation and fight disease. The ten countries that commit most to Research and Development (as a percent of their GDP PPP) are mostly predictable; Japan, Finland, Sweden and Denmark top most developmental indices of any kind. Also in the list can be found technologically savvy South Korea and Taiwan and a few well-developed European countries. The only surprise (for some) is Israel, sitting 2nd in the list.
5. Table of Country Scores
Countries are only listed here if they appear in over 5 data sets otherwise their score could be inaccurate.
6. Notes on Methodology43
Results charts have the best 5 countries marked with a green number, and the worst 5 marked with a red one. If there is a tie, then, the markers extend for as long as the tie continues. Sometimes the actual points are calculated to many significant figures, but, the results are only shown for 3 s.f. and in these cases, it might look like the flags do not extend enough. To view the data in more detail hover over any row to view the precise points awarded.
For nearly all data sets, countries are ordered from best to worst and then given points depending on their rank. The worst country in any given data set gets 0 points, and the best gets 100 points.
I have considered giving the UN HDR's rankings double the importance (allowing countries to score 0-200 for this data, instead of 0-100), as it includes multiple factors. However, it is not primarily concerned with morality, and one if its 3 criteria spreads is purely financial. It includes schooling years, but, I intend on also including a more potent statistic on that topic, measuring more than just school-age achievements.
7. Previous Edition (2005-2007) Winners: Sweden, Denmark, the Netherlands, Finland and Germany
#belgium #canada #czech_republic #denmark #finland #france #germany #hong_kong #iceland #ireland #japan #luxembourg #netherlands #new_zealand #norway #singapore #sweden #switzerland #UK #USA
For old stats, view the archived page: "Which Countries Set the Best Examples? (Archived page from 2005-2007)" by Vexen Crabtree (2007).
Global Peace Index Norway, New Zealand
Quality of Life Ireland, Switzerland
Most Competitive Economy Switzerland, Finland
Obesity Japan, Korea
Environment
Open Access to Research Sweden, Netherlands
Aid to Developing Countries Norway, Luxembourg
IT: Computer Piracy Levels USA, New Zealand
Secularisation Czech Republic & France
©2017. All rights reserved.